The Madison, Wisconsin-based worship space general contractor was recognized as a 2020 Associated Builders & Contractors (ABC) of Wisconsin Annual Projects of Distinction Award recipient in a virtual ceremony.
The 35,682 square foot remodel and expansion for Heartland Church in Sun Prairie, Wisconsin, earned silver in the commercial $2 million to $10 million category.
NCI-Roberts Construction transformed a dated, industrial building partially occupied by Heartland Church into a standout, modern worship space. The project included remodeling the interior of the existing 12,000 square foot space used by the church and five formerly leased tenant spaces totaling 23,682 square feet, plus the addition of a 189 square foot vestibule, and an exterior facelift. The 10-month renovation included a new main entrance, two auditoriums, children's and inclusive ministry spaces, additional office space and parking, technology updates and more.
NCI-Roberts overcame obstacles including a schedule delay, unsuitable soils, and occupancy during construction, and provided value engineering including insulation relocation, material reuse and upgrades, electrical efficiencies, and utilization of congregation member volunteer labor. The expansion achieved the goals Heartland set forth, both deepening ongoing efforts and providing space for more worship and ministry – for children, those with special needs, students and small groups.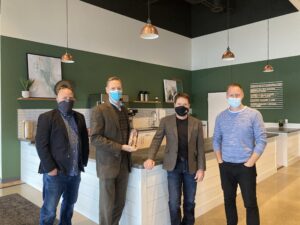 "We truly appreciate our partnership with Heartland Church, and the opportunity to help them expand and deepen their ministry," said Jeff Grundahl, owner of NCI-Roberts Construction. "The final result is incredible, and it's an honor to receive recognition within our industry for the quality of our process, team and build."
Pictured are NCI-Roberts Project Manager Jace Jontz, Assistant Sales Director Matt Darga, Grundahl and Heartland Church Pastor Jon McNary commemorating the award in the Heartland Church café. Read more about the Projects of Distinction Awards and ABC of Wisconsin.