Join other local ministry teams for a morning of education and inspiration, plus an up-close look at a Janesville church and their ministry growth solution.
Whether you're planning a church building project, need help with fundraising, or you're looking for support in becoming a stronger, healthier ministry, the Building God's Way Seminar has something for everyone!
At a Glance
Who:  Bring your whole team!  Pastors, church staff, board and committee members are welcome
When:  Thursday, September 26, 2019, 8:00 a.m. – 1:30 p.m. with tour following
Where:  Faith Community Church, 2931 Lucerne Drive, Janesville, WI 53546
Registration:  Registration is $9-$15/person depending on group size and date of registration, and includes breakfast, lunch and refreshments. All registered attendees will receive a complimentary copy of the book, "The God of New Beginnings," by seminar presenter Matt Roberts.
The seminar is presented by NCI-Roberts Construction, a Madison-based general contractor with a renowned history of church construction, and pastors and leaders in architecture and sustainable ministry from Building God's Way.
Full Details
8:00am – Doors Open / Continental Breakfast Served
8:30am – Welcome & Introduction – Lisa Sotis, Project Development Manager, NCI-Roberts Construction
8:45am – Becoming an Embedded Church in Your Community – Community doesn't just happen by accident. We must break ground and cultivate a culture that invites people in. We must come to a place where we truly believe there is no "us and them," there is just "us." Matt Roberts, Senior Pastor of The Genesis Project Church and CEO of The Genesis Fund National Church Planting Network, will share some keys from his book "The God of New Beginnings," that can help you create a culture that allows people to belong before they believe.
9:15am – Designing a "Community-First" Church Facility – In order for churches to thrive in the 21st century, we believe they must be willing to put their community first. BGW Architect David Tyson will share 4 key design principles to consider for your new or existing facility that will help you bring people to your campus who are not looking for Jesus, but who might later realize that Jesus is looking for them.
10:30am – Break
10:45am Creating For-Profit Partnerships – Church facilities have traditionally been among the least utilized buildings in America, sitting empty throughout most of the week. Pastor Matt Roberts will share how churches can leverage for-profit partnerships to maximize the use of their building and help offset overhead costs.
11:45am – Shepherding your Congregation through Change – No matter where your church is in its story, one of the hardest things you will ever do as a leader is to shepherd your congregation through change. It challenges our comfort zones, stretches our faith and can be a divisive force if not led through with deliberate discernment and care. During this final session, Pastor Matt Roberts will introduce you to 3 powerful forces of change that we can foster within our churches and ministries. Defining and applying these fundamentals will give you a framework to guide lasting change beyond this seminar.
12:15pm – Lunch & Panel Discussion – Q&A and interactive discussion with all seminar presenters, as well as Jeff Grundahl, owner of NCI-Roberts Construction.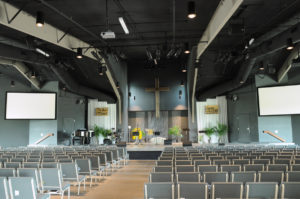 1:30pm – Facility Tour – Faith Community Church completed an 8,000 SF worship space addition that was designed with a focus on function and matching existing materials. The $1.2 million expansion includes a 650-seat sanctuary, nursing/cry room, media center, video production room and more. Senior and Founding Pastor Jeff Williams and NCI-Roberts Project Development Manager Lisa Sotis will provide a tour and information about the church's growth and construction.