The Madison, Wisconsin-based worship space contractor was honored by Associated Builders and Contractors (ABC) of Wisconsin with a Projects of Distinction Award for a historic church remodel and expansion project.
NCI-Roberts Construction, along with guests from Burke Lutheran Church and project architect Cashman Associates, accepted a Gold award in the category of General Contractor – Commercial – Under $2 Million at a January 27 awards banquet in Pewaukee, Wisconsin.
NCI-Roberts completed three phases of construction for Burke Lutheran Church, an Evangelical Lutheran Church of America congregation in Madison, Wisconsin. The project included relocating a 121 year old, 185 ton sanctuary.
During phase one, NCI-Roberts constructed a new single-story, 5,830 square foot structure. The floorplan incorporated fellowship space, a warming kitchen with pantry, nursery, fireside room, offices, bathrooms, and more. The space was the congregation's first fully accessible building, complete with a new driveway and parking lot, and a covered zero-step entrance into the vestibule.
Phase two was relocating the original church. NCI-Roberts demolished an addition constructed in 1964 containing office and education space. Then together with Heritage Movers, the contractor raised the remaining structure with roughly 20 jacks onto dollies about five feet high and moved it inch-by-inch to a new foundation next to the new facility.
For phase three, NCI-Roberts connected the church to the phase one facility with entry link framing. A new 658 square foot addition was built that includes a sacristy and organ room. To enlarge the sanctuary space, two walls of the former organ room and a staircase were removed. NCI-Roberts improved accessibility by adding a ramp up to the altar and creating a new pew layout with a center aisle. Stained glass windows salvaged from the 1964 addition were installed in the narthex and entry.
NCI-Roberts' work supported Burke Lutheran Church in significantly modernizing its facilities while maintaining meaningful ties to its past. The new construction provides members with full accessibility, improved energy efficiency, better functionality, more space and storage, and ample parking while allowing room for future growth. The renovated spaces include a balance of historic details and modern conveniences.
The project was judged in a rigorous process by a panel of construction experts based on a number of criteria, including safety, quality, execution and coordination, difficult and unusual challenges and overall distinctiveness. Read more about the Projects of Distinction Awards and ABC of Wisconsin.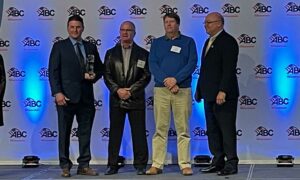 Pictured at the awards banquet from left are Mike Trapino, Assistant Operations Manager and Project Manager, NCI-Roberts; Greg Cashman, Principal, Cashman Associates, Inc.; Bruce Bosben, Burke Lutheran Church board member; and Bernie Lange, Project Development Manager, NCI-Roberts.