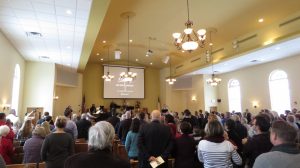 After five years of development, Fulton Church, located in Edgerton, WI, celebrated the completion of the second phase of construction on their growing church facility.
The church's two-story, multipurpose addition houses a second floor recreation space that is used for Awana club, basketball and volleyball, and also serves as a large gathering and fellowship space. The first floor includes a youth room, a multipurpose game room/classroom, several classrooms, a warming kitchen and storage space.
NCI-Roberts Construction completed the 15,000 square foot addition in January of 2018.  The addition was the second project with our firm.
Fulton Church held a Building Celebration Service on Sunday, February 11 to give thanks to all the helping hands, financial supporters, and prayers that made their dream a reality.
A new welcome video created by the church shows the project during construction and how it has helped the church to grow its ministry and outreach.