Community open house marks completion of long-awaited worship facility addition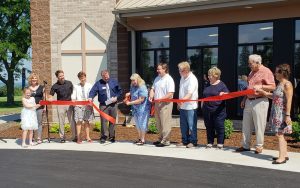 On Sunday, the NCI-Roberts Construction team joined community and congregation members for worship, a dedication and ribbon cutting, refreshments, and tours of their worship facility addition completed earlier this month. Pastor Julie Wilson and Wisconsin Conference United Methodist Church South West District Superintendent Rev. Scott Carlson led the worship.
The 2,753 square foot addition was designed to complement the existing structure. The exterior features a combination of brick and stucco, with metal roofing. Narthex windows add a welcoming touch to the new front entry, which leads into a hospitality area and future administrative space and pastor's office.  But the most conspicuous and meaningful change to the facade is the steeple. NCI-Roberts removed the existing steeple and constructed a new bell tower to house a 124-year old bell the congregation held onto for 33 years, for permanent placement in its church after being refurbished in Ohio.  The tower includes a shaft for future installation of an elevator, and a cross adorns the window.
"Our new entryway totally transforms the look and feel of our church and provides a much larger and more welcoming area for fellowship and hospitality," said Patti Tschudy, Mount Horeb United Methodist Church council chair.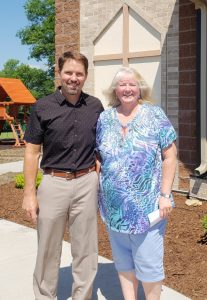 "It was our pleasure to build for you," said Jeff Grundahl, co-owner of NCI-Roberts Construction, at the ribbon cutting. "We are grateful for you choosing us to support your mission and wish your congregation continued growth and success." Joining Jeff was NCI-Roberts Co-owner Mary Grundahl and Project Manager Ryan Gundlach.
The roots of the Mount Horeb United Methodist Church go back to 1854 in the Black Earth area. In 1987, the congregation completed construction of the original portion of its current location at 9542 County Road S in Mount Horeb, Wisconsin. The facility incorporates the altar, pulpit, lectern, baptismal font and a wooden cross from its second church in Mount Horeb, which still stands on the corner of Oak and 3rd Streets. The church's mission is "Welcoming, Teaching & Growing Connections For God." More information can be found on their website.