An unmatched renovation by NCI-Roberts Construction and FLOOR360 Design for a Difference was revealed last weekend at long-standing Madison, Wisconsin nonprofit
Hundreds attended a community open house hosted by the Wil-Mar Neighborhood Center on Sunday, October 13, the day after an unveiling for staff, key neighbors and media hosted by the Design for a Difference movement and its local partner FLOOR360.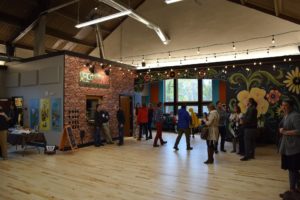 When NCI-Roberts client Wil-Mar Neighborhood Center was selected as the recipient of the 2019 FLOOR360 Design for a Difference Madison makeover, the contractor joined the "army" of local businesses and interior designers supporting the effort, donating pre-construction services and labor hours to complete the expanded project.
The renovation included reconfiguration to create a larger art room, computer room and new exercise room; addition of a janitorial room; kitchen adjustments; the replacement of exterior and interior surfaces and materials, including doors, acoustical ceilings, and lighting; water damage repair; and updated HVAC, electrical and plumbing. A total of 50 local interior designers, 200 volunteers and many businesses made the renovation possible, with work beginning in April and Wil-Mar staff moving out for a two-week period prior to the reveal.
FLOOR360 Design for a Difference media sponsor NBC15 and several other local media outlets covered the weekend's events.
The Wil-Mar Neighborhood Center has been serving the near-east side Marquette Neighborhood since 1968. Today it serves 700-800 people each week, with its main Yahara Room hosting more than 1,000 events each year. The renovated facility will allow for increased and more diverse programming and enhance current offerings, including the well-known La Fete de Marquette.