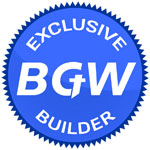 NCI-Roberts is the exclusive church builder and Christian school builder for Building God's Way in the state of Wisconsin.
Building God's Way is our primary partner for large-scale planning and design for churches and Christian schools. In addition to outstanding ministry-based facility design, Building God's Way offers an array of faith-based resources, including:
Engineering
Building supply
Worship technology
Financial sustainability
Repositioning
Biblical entrepreneurship
Fundraising
Planned giving
School/college development
Legal and accounting
Approach and cost savings
Together, NCI-Roberts Construction and Building God's Way provide a revolutionary approach that first seeks to understand the ministry's needs and total funding capacity, then balances those needs and budget with the highest level of functionality, innovation and aesthetics.
The process begins with the charrette, a two- to three-day planning and design event.
Our teams deliver a consistent 20 to 30 percent savings compared to typical construction methods. We do this through an aggressive stewardship-based process that focuses on lowering both up-front costs and long-term operation and maintenance costs on each facility.
Through it all, Building God's Way, NCI-Roberts Construction and our client agree to keep God at the center of the relationship and share the love of Christ with all those involved in the project.
Learn more about Building God's Way
Explore the Building God's Way website for more information and church building resources.