NCI-Roberts Construction follows a process developed over decades of designing, building and remodeling hundreds of churches and nonprofits. Throughout the process, our goal is to lower up-front costs and long-term operation and maintenance costs, so you can focus your funds on your mission.
Preliminary planning and budgeting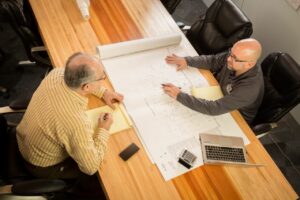 In this first stage, which is key to the process, we:
Identify your budget, goals and expectations
Discuss space and site needs
Provide a conceptual drawing, or work with an architectural firm, if selected
Prepare a preliminary budget
Identify owner and contractor representatives and responsibilities
The conceptual drawing and preliminary budget are indispensable to the members of the church or nonprofit organization leading the initial building effort. They allow them to share the vision with the larger organization and gather feedback, and begin to plan fundraising and stewardship activities to support the project. Many times, more than a year goes by before our work together continues.
Consultant selection, design and budgeting
In this stage of the process, we work with you to select an architect, structural and civil engineers, and a surveyor, as well as landscape, mechanical, electrical, plumbing and interior design professionals to help us plan.
Together, we develop the schematic design, design development, and construction documents, and detailed budgets for each.
It is in this stage that we begin to provide updates to include in your bulletin or newsletter, or help you communicate about the project's progress in other ways to your larger organization and those it impacts.
Bidding and construction
Next, we coordinate bids for each type of work. Our goal is to choose subcontractors who will honor your mission and the effort you put into raising building funds. In this phase, we also review final cost estimates, prepare the contract, obtain all required permits, and begin construction.
We also manage owner-direct purchasing of materials, enabling sales tax savings. We handle orders, receipts, warranties, quality control and all risk, so owner responsibilities are limited to issuing payments to suppliers.
We encourage congregations, staff, volunteers and beneficiaries of your work to participate in the construction process. Here are a few examples:
Decorate framing with signatures and phrases related to your mission or beliefs to inspire those on the job site
Provide general or skilled volunteer labor, such as hauling materials or installing carpet
Deliver beverages or snacks to construction professionals, or host a shared meal
Post-construction
Following the completion of the project, we provide as-built drawings, warranty information, operating and maintenance manuals, as well as provide training for those who will be responsible for maintaining the building. We also deliver a final summary of costs; our goal is to accompany that summary with a give-back of savings realized during construction.
We can provide supplies, media outreach and other support for an open house or ribbon cutting, to help you celebrate the milestone with your congregation or organization.
Finally, we'll continue communication with you and your organization well after the building is completed, to ensure lasting quality and support your mission.