The programming portion of the design-build preconstruction process produces a building that fully supports its organization's mission
The best facility management goes beyond daily operations like cleaning, security, maintenance and grounds management. Ideally, it ensures an organization's physical environment supports its team members in fulfilling the organization's mission. This philosophy can be led by a facility manager, volunteer individual or committee, or a high-level leader, like a nonprofit executive director or church pastor.
There is one specific time where facility management is particularly mission-driven: during a building project. And for the organization's team members or volunteers involved in that project, it can be a once-in-a-lifetime experience.
The programming portion of a design-build preconstruction process jump-starts this important design consideration. NCI-Roberts Construction and its partner architect meet with the client to understand the intended use of the space, and the needs and priorities of the various user groups. The most successful projects reflect the client's mission through the design of the building.
NCI-Roberts Construction has several clients whose design-build processes uniquely incorporated their missions.
children's community school
Children's Community School is a nonprofit Montessori preschool. Its steering committee reflected on the Montessori tradition as well as its commitment to environmental stewardship, which is key to its mission, during preconstruction with NCI-Roberts and OPN Architects. Its new school incorporates a child-size, second entrance door inspired by the name of the first Montessori School in Rome, translated as "The Children's House." It was also built to achieve net-zero status through solar panels and other product choices, and was recognized as a Dane County Climate Champion.
heartland church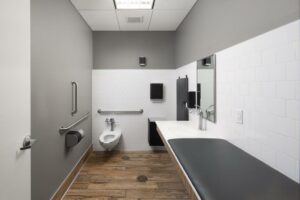 For Heartland Church, inclusive ministries were an important focus. A sensory friendly "Wonderfully Made" room was designed for individuals with disabilities and/or diverse needs. Inspired in part by a tragedy in one of its pastor's lives, additional accommodations for the differently-abled were constructed, including an adult-sized changing table in the family restroom. A room for nursing mothers includes a television for services and announcements. A quiet room is also available for parents with babies or those in need of a sensory-friendly experience.
burke lutheran church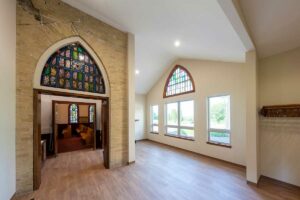 After decades of weighing new construction and historic preservation options, Burke Lutheran Church found, in the words of one member, an "ideal mix of honoring our past yet facing the future." NCI-Roberts relocated the original church built in 1889 and removed and prepared stained glass windows for reuse before demolishing an old addition. These windows were incorporated into the narthex and entry design of the new construction as visual reminders of the church's long history. A new pew layout created a center aisle for the first time; the addition of a center aisle was important to the congregation for weddings and other significant services.
"It's so rewarding to see our work have a real impact on how a nonprofit or church fulfills its mission," said NCI-Roberts Senior Project Manager Jace Jontz. "It makes our team more connected to the project and purpose of what we do," he said. "We're honored to support local organizations that do so much for our community."
NCI-Roberts can help support your mission
Learn more about NCI-Roberts' philosophy and process, and contact us to explore facility improvements to enhance your mission.